RWF and Alquimia meet to talk about feminist solidarity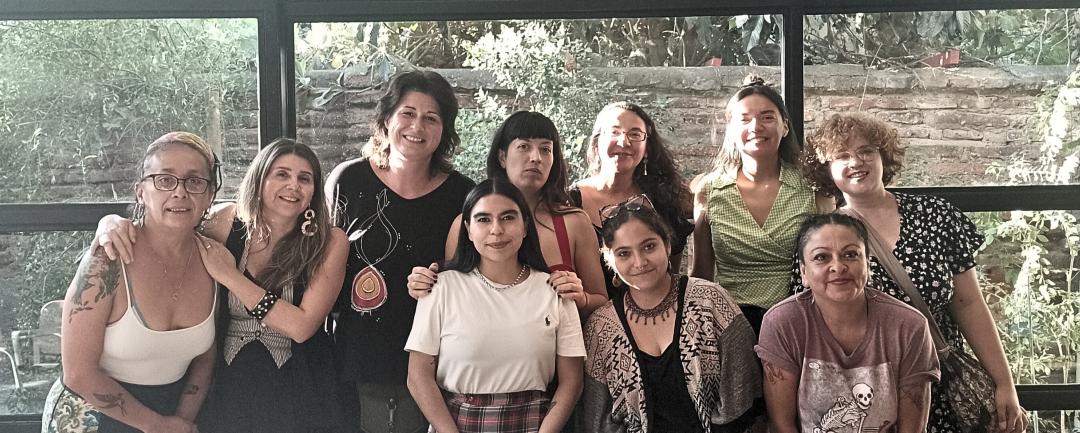 In March we received a visit from the Reconstruction Women Fund (RWF), a women's fund located in Serbia, in eastern Europe. Sharing with the Alquimia executive team and exchanging views on feminist solidarity within the framework of resource mobilization were the central aspects of the meeting.
"We came to visit Alquimia because we have always heard from previous generations of the RWF that we are very sister funds in the political sense, of political articulation. This visit is also within the framework of developing or thinking about what would be feminist solidarity or -as we still call it- feminist philanthropy. We are interested in seeing how to develop this idea and learn from it."
With these words, the Executive Coordinator of the RWF, Đurđa Trajković, explained the reasons that brought her to Chile from the Balkan Peninsula. In that sector, marked by years of intense ethnic wars, is Serbia, cradle of the Reconstruction Women Fund, one of the 44 women's funds in the world. Đurđa arrived in Chile together with Galina Maksimović -RWF Program Coordinator- to forge a meeting between our funds and share views on Feminist Solidarity, a concept under construction developed by Alquimia and that is gaining strength in different spaces.
In this sense, Alquimia positions itself as an organization that mobilizes resources, that is, that collects and delivers economic contributions as a political practice of feminist solidarity to contribute to social, women's, and gender-generic diversity movements.
We understand feminist solidarity as a political value that emanates from acts of collaboration and dedication with others to seek joint solutions to social problems and inequalities. It is lived in daily and concrete actions of respect and support, as an act of reciprocity where the actions of generosity, as well as received, are returned without distinction and through acts. It is a way of building opportunities to improve and transform community life and its future on earth.
At the same time, the meeting between Alquimia and the RWF gave us the opportunity to share visions about what is happening in our territories and the challenges that the movements face today: "Although there are no absolute similarities, there are certain historical experiences that we share , such as the transitional justice ruling, a markedly extractivist economy and a latent threat from fundamentalisms", said Đurđa Trajković.
Part of the meeting included the participation of activists from Ecolety and Lelapp, who shared their territorial visions in a global context marked by the fundamentalist outpost. In the same way, we had the opportunity to share images, narratives and feminist and solidarity actions that are being carried out by activists, organizations and social movements both in Chile and in Serbia.
Regarding our role as women's funds, we agree on the vision of building articulated and joint work. In this sense, Alquimia revealed the work in alliance that is carried out throughout Latin America, which seems to be a reflection of the reestablishment of community ties as part of our common purpose of re-articulating the movements together with the communities and their territories.
Before leaving, Galina Maksimović shared a few words about the match: "I take a big dose of hope with me; a hope that comes from Latin America in general. I leave with a feeling of power and with the awareness that this power is linked to a responsibility. I also leave with new thoughts about what those responsibilities are and how we can improve."
She also closed with her hopes for the future: "I would like to say that as long as we stay true to our feminist roots, as long as we are able to see each other as people, as long as we can visualize our activism and reach a certain level of identification, as long as we that we are able to reach the land itself and those who make up the communities and that we provide services in the best possible way in this capitalist context, there is hope for the existence of a different world".